Every Peoples Bank debit card comes with free SHAZAM BOLT$ fraud protection:
Immediately alerts you to any potentially fraudulent activity

Set alerts for purchases exceeding your defined amounts, phone or Internet purchases, and suspicious or high-risk transactions

Turn your debit card "on or off" in the event it's misplaced or stolen
Before you begin, download the app:
Find it in the Apple Store or Google Play.
Getting enrolled:
Step 1 of 4: Card Eligibility
Select Register. You'll be asked to enter your debit card number and accept terms and conditions.
Step 2 of 4: Card Eligibility
Enter your phone number and verify your PIN.
Step 3 of 4: User Profile
Enter your username, password, email address, and phone number.
Step 4 of 4: User Profile
Enter your name and address. Check your email for an activation link, and sign in!
Set up notifications and alerts when card is used:
Select a card from the Cards & Balances screen and then Set Alerts from the Card Actions screen. Here you can set email and text alerts for:

Transactions over a certain amount

Internet and phone transactions

Transactions outside of the U.S.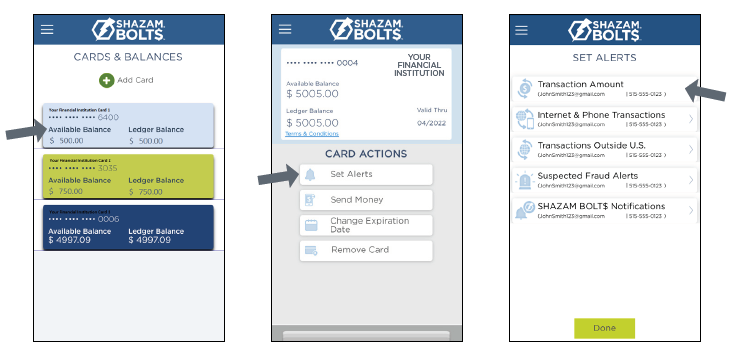 To manage your personal information, tap User Profile on the Menu screen.

To enable Quick Balance, Remember Me, and fingerprint access, tap Login Preferences on the Menu screen.

To change your password or to add/delete a card, tap User Settings on the Menu screen.